Bangkok
Bangkok 2011
fashion
Travels
wiwt
Bangkok: Damnoen Saduak Floating Market
Friday, July 08, 2011
There are many floating markets in Bangkok, but the Damnoen Saduak Floating Market, situated about 100km southwest of Bangkok, is the most f...
There are many floating markets in Bangkok, but the Damnoen Saduak Floating Market, situated about 100km southwest of Bangkok, is the most famous of them all.


Our adventure began even before we arrived at our destination. As our van was about to leave the city,
the engine stalled and we were stuck on a road with 5 lanes of heavy traffic! Fortunately, the big and burly men in our group took the initiative to save the damsels in distress.
Raf's hubby, Mithila, looked like he was truly enjoying himself though!
After what seemed like an eternity, we finally found ourselves on the boat to the floating market.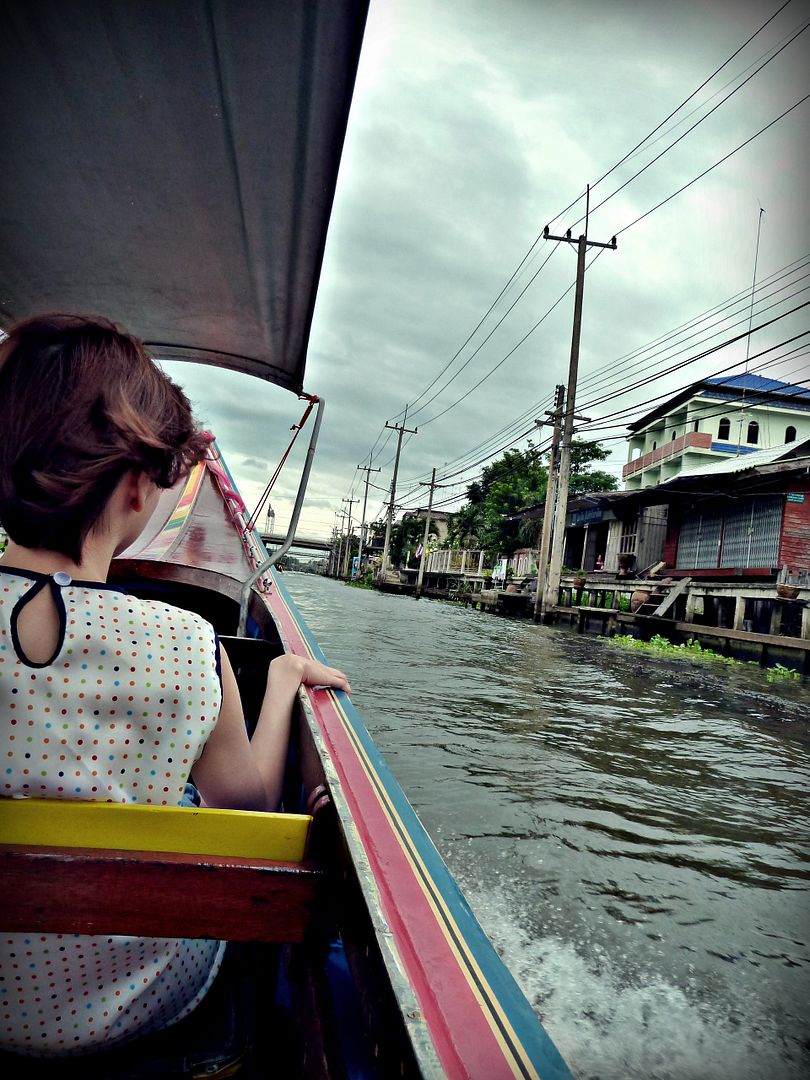 The photos give a false impression that the surroundings are serene and the waters are calm, but when you are on the boat itself, you'll feel the boat rocking from side to side, with the choppy waters threatening to engulf you at every point of the journey. It felt rather precarious I must say, especially if you are seated right in front.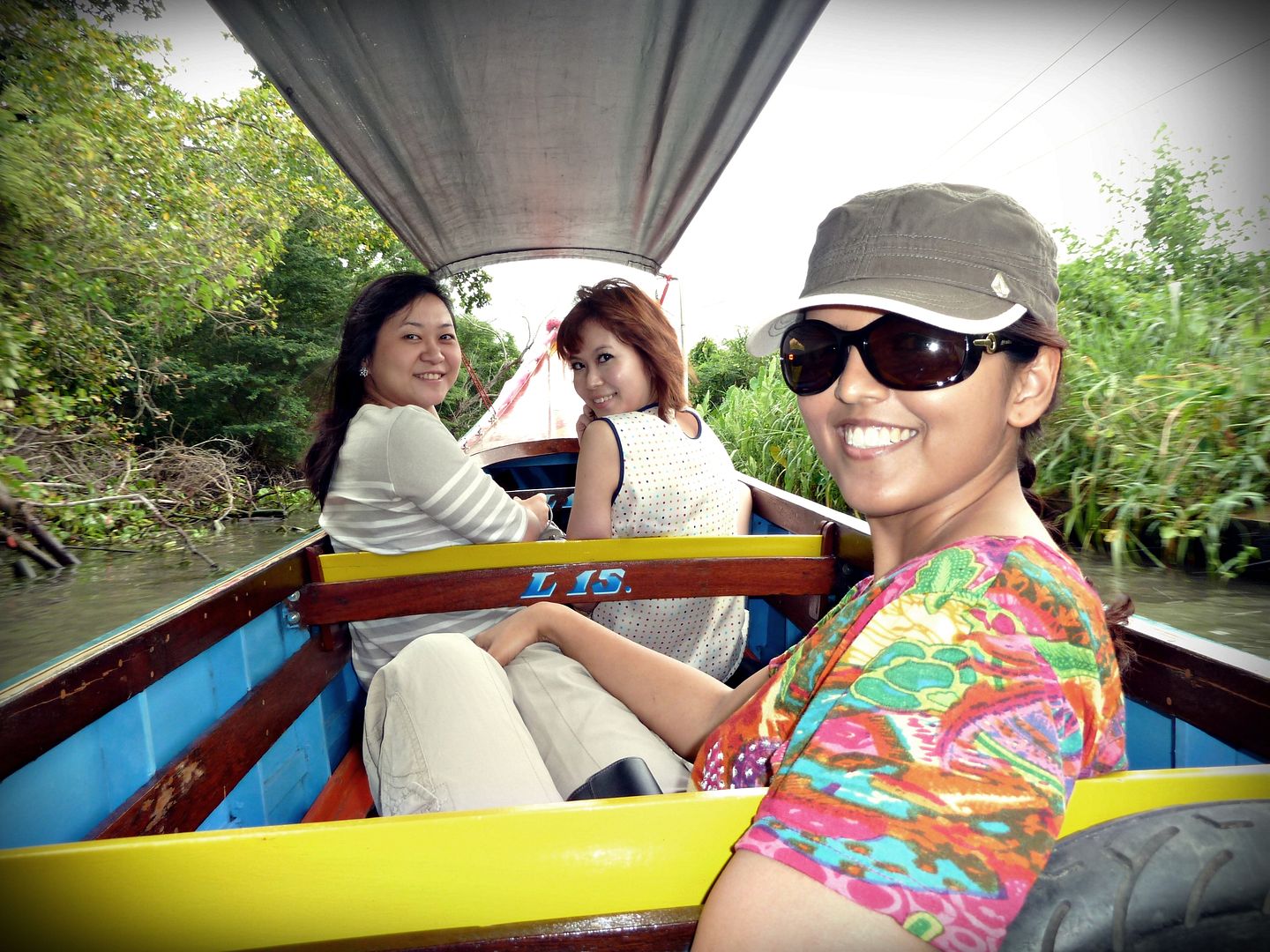 I tried to distract myself by taking every opportunity to soak in the sights with the breeze caressing my face. The rows of teak houses on stilts provide an insight into the everyday lives of the Thais living in this part of the country, and if you pay attention to the sidewalks, you'll see some of the inhabitants going about their daily activities.

I looked on in wide-eyed wonder. Going back to basics without technology and gadgets may seem daunting at times, but the smiles and laughter permeating the surroundings seemed to tell me otherwise.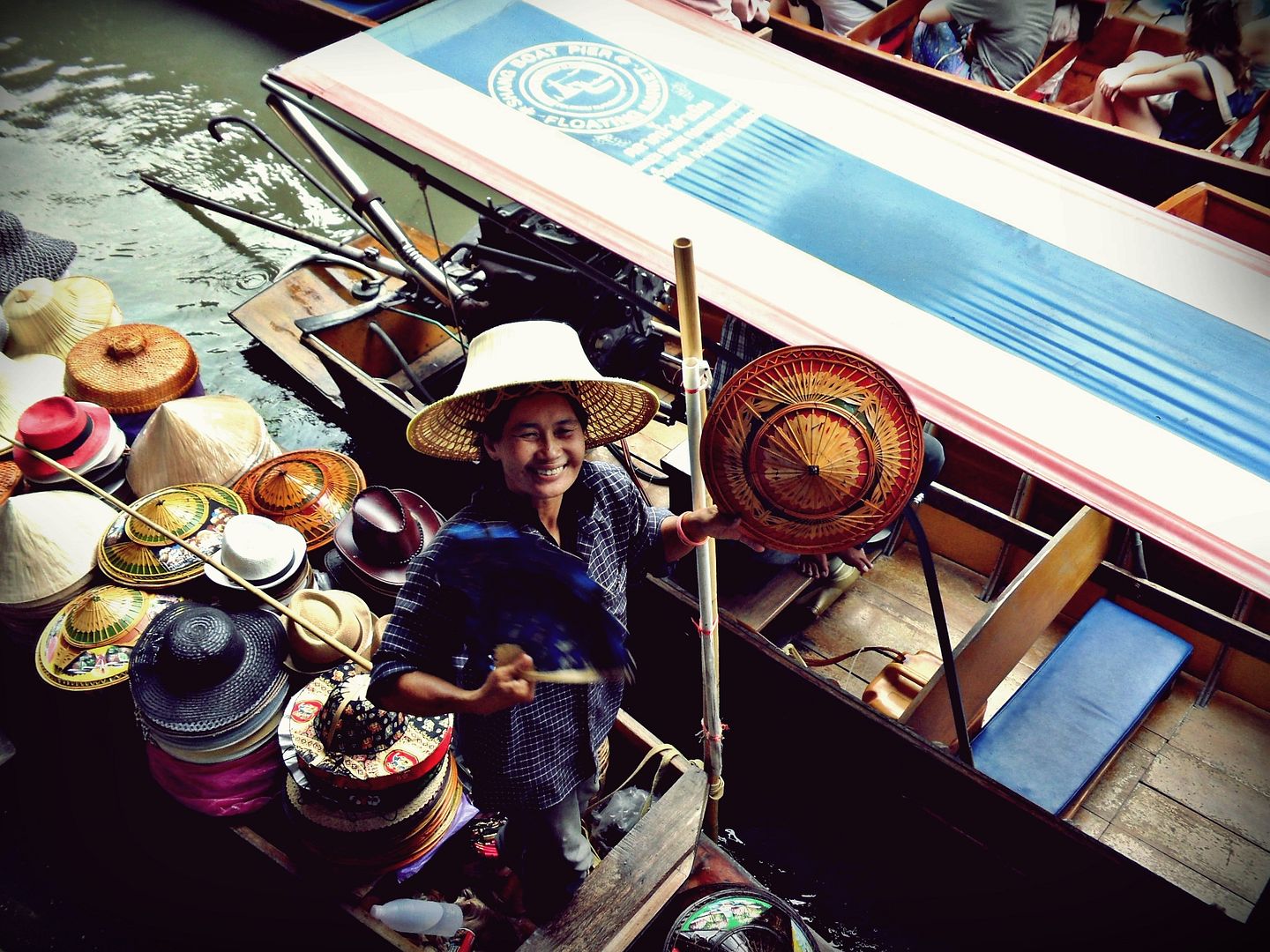 Travelling alongside us were many other tourists and visitors from all around the world, armed with their digital and video cameras and trusty hats. Many of them seemed awed by the rustic surroundings and the inhabitants' way of life. I wonder if the residents here feel like zoo animals since tourists come by the truckloads everyday.
There came a point when we all had to alight and board a smaller boat that will take us around the shops. But lo and behold, the congestion was so bad, we decided to just camwhore and shop by foot.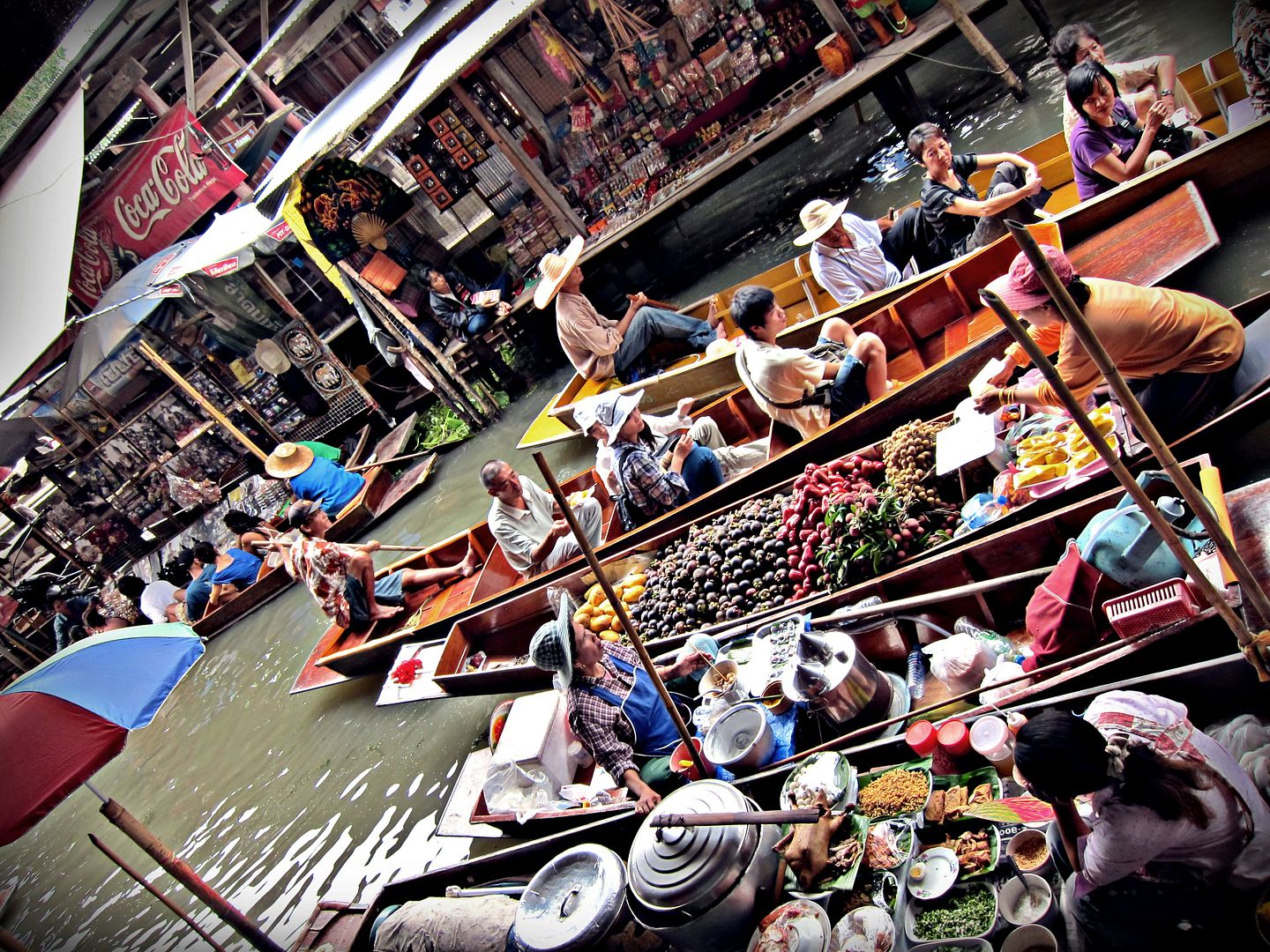 The lively chatter among hawkers drowned out every noise imaginable.
It was quite an eye-opening experience!
It felt almost similar to being in a wet market in Singapore, although erm... the floating market is certainly a lot wetter. LOL, sorry I know I'm lame.


Plus, you can find anything and everything here, ranging from fruits, cooked food, to hats and clothes. I bought my yellow hat here as well!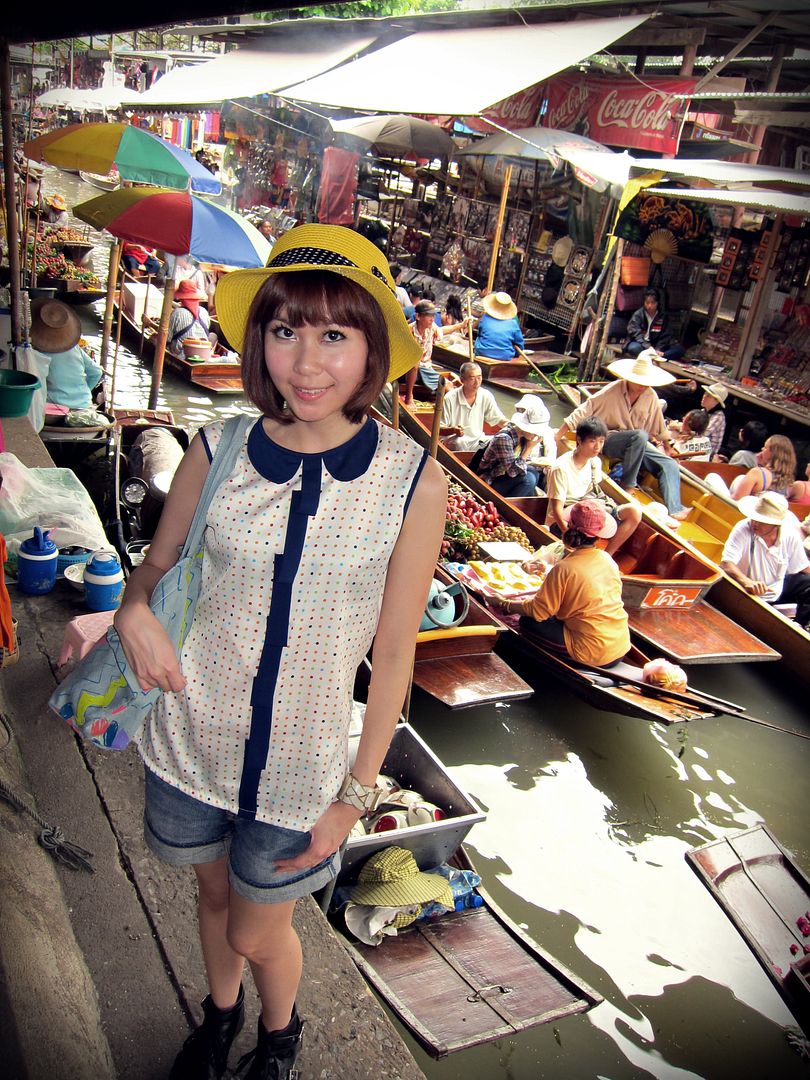 And finally, to reward you lovelies for reading till this point, I am putting up the top in the above photo for sale!
You'll be getting a brand new piece of course. This top is made of silky satin material. What I love about it is the cute peter pan collar and the rainbow polka dots which make this top incredibly cute. The seam in the middle of the top is actually made up of 6 overlapping cloth panels, giving it a 3-dimensional feel. ;) You can easily pair it with shorts, like I did, or tuck it in a high-waisted skirt for work.
Price: S$27.90 (inclusive of normal mail postage)
- SOLD -
Size: Fits UK 6-8
E-mail me at

regina.chow@gmail.com

if you'll like to purchase it. I only have 1 piece!