fashion
reviews
shopping
Taipei
Taiwan
Travels
wiwt
Shopping in Taipei
Friday, May 17, 2013
As promised, the focus of my final post on Taipei is on shopping. Taipei has such a thriving and vibrant shopping scene, it's impossib...
As promised, the focus of my final post on Taipei is on shopping. Taipei has such a thriving and vibrant shopping scene, it's impossible to miss!
Today, I will be sharing my top 4 spots for shopping in Taipei as well as pictures of my hauls.
Stay Real is a popular Taiwanese streetwear brand established by Ashin from Mayday. The brand has a history of collaborating with famous Japanese designers including Jun Watanabe and also Japanese characters like Hello Kitty, hence it is little wonder that it decided to set up shop in Tokyo too.
I really hope this brand will arrive on our shores one day. Their designs are unique and the workmanship is excellent. In case you were wondering about the price points for this brand, the Hello Kitty t-shirt here cost me about S$60, the shirt was over S$100 and the cap was about S$40.
2) Wu Fen Pu Wholesale Market
I am sure this wholesale market needs no introduction. Like any self-respecting Singaporean who loves shopping, I spent practically one entire day here scouring through alleys after alleys of clothes, shoes and accessories.
The shops here now boast an endless selection of Korean apparel, accessories and shoes at affordable prices, which make them the perfect alternatives to the traditional stores in shopping malls. I personally think it is a good idea to pop by here first before you head down to the malls, because you just might be able to bag something that you've been looking for at a much lower price.
Don't get me wrong though, the Korean merchandise here are certainly nowhere near dirt cheap, but from my observation, they are likely to cost up to 50% less than what the malls offer.
I've been on the lookout for wedged sneakers for a while now, and I was absolutely over the moon when I located three pairs in the exact styles that I wanted! These cost me about S$80 per pair.
I bought a couple of dresses here too but what really caught my eye was this baroque dress adorned with intricate lace sleeves and gold trimmings.
This lace jumpsuit is another one of my favourites. The lace top is sheer but the tailored cut ensures that you reveal just a hint of skin without compromising on elegance. I loved it so much that I wore it to the Queen Elizabeth II Cup recently.
My Korean diamonte accessories were from Wu Fen Pu wholesale market as well.
3) Shih Lin Night Market
The shopping in Shih Lin Night Market caters to the masses and tend to be very reasonably priced. If you're on a tight budget, this is probably the place to be as the likelihood of burning a hole in your pocket is relatively lower.
I found a shop here that sells both made-in-Korea apparel as well as designed-in-Korea apparel. What does the latter mean? It basically means that the clothes are designed in Korea, but manufactured in China. The lower cost of production also translates to consumer savings, hence such apparel tend to be priced lower than their true blue Korean counterparts. Based on personal experience however, the made-in-Korea apparel are definitely better made.
I bought a couple of designed-in-Korea tops at about S$20-S$30 each.
My main objective for heading down to Chung Shan North Road was to visit the Chrome Hearts store, but the cold and unprofessional service provided by the sales assistants turned me off big time. I literally did a U-turn and zipped out of the store with nothing in hand although I went there with the full intention of buying some new accessories.
Well, as the old saying goes, every cloud has a silver lining. By a stroke of luck, we stumbled upon some shops in the vicinity where we were greeted with exceptional service and quality Korean apparel. This striped jacket with neon pink cuffs and lining is my favourite buy. It fits amazingly well and I love how the pink lining that peeks out at the sides adds an element of surprise.
I also bought the lace pants that I was wearing in this picture from the same shop. It is very comfortable and fits me to a T.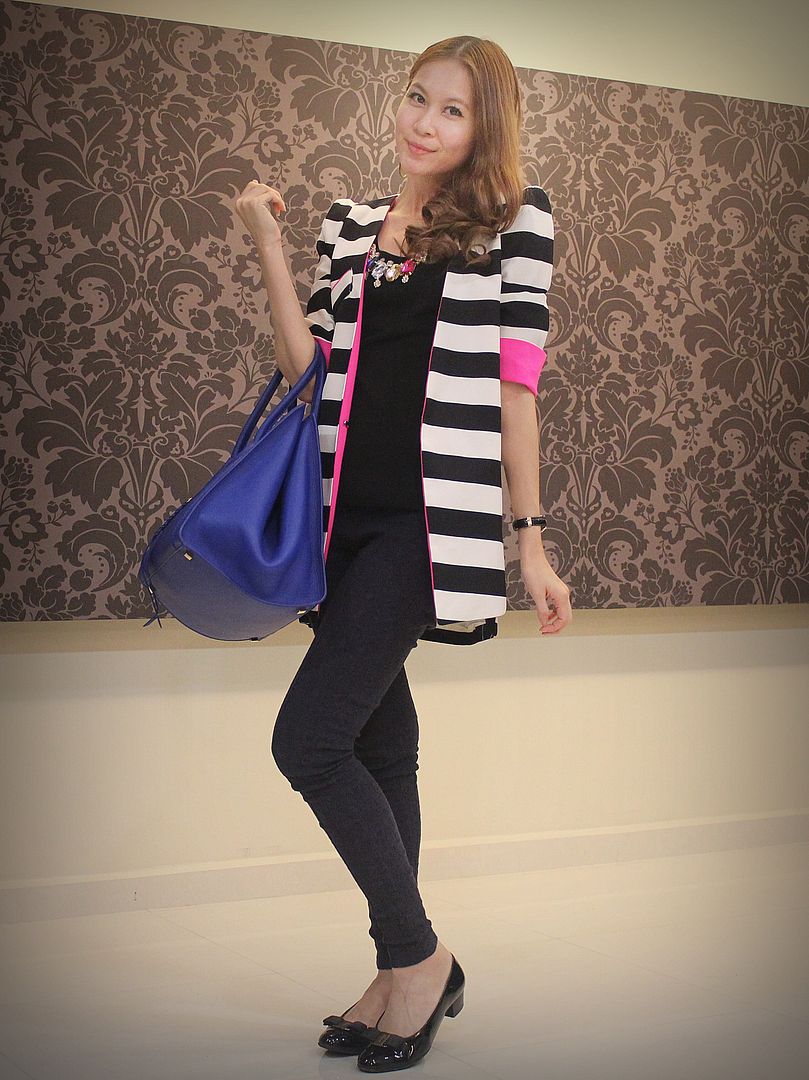 Shoes from Salvatore Ferragamo // Phantom Bag from Celine // Jeweled tank top from Shanghai
I hope you enjoyed this shopping post!
What about you? Do you shop at these places when you head to Taipei too? :)