advertorial
fashion
sponsored
wiwt
A Touch of Gatsby with Especially Escada
Wednesday, June 19, 2013
 Inspired by the spontaneity, optimism and confidence of women today, Especially Escada is a luxurious and feminine scent created by the ...
Inspired by the spontaneity, optimism and confidence of women today,
Especially Escada is a luxurious and feminine scent created by the House of Escada.
Thanks to P&G Prestige Fragrances, I had the wonderful opportunity to try out this lovely fragrance recently. What struck me first was the elegant packaging. Housed in a gorgeous glass flacon with an iconic double E logo gold-finish lid, the perfume would certainly be a beautiful addition to your vanity table.
Aesthetics aside,
nothing is more memorable or evocative than a scent. A whiff is all it takes to transport you back to the past, and a whiff of Especially Escada was all it took to bring me back to the 1920s, the golden age of opulence where flamboyant drop waist flapper dresses, fancy headpieces, and dazzling sequins and pearls took center stage.
The 1920s was an era where women began to espouse freedom. They became bolder and more confident without compromising femininity and grace. It was also an exciting era of unprecedented affluence, where fashion trends took a step towards modernity while retaining some aspects of classicism, which interestingly, is a balance that the Escada brand aims to create as well.
Enhanced with intense top notes of pear and ambrette seeds, Especially Escada first starts off fresh, crisp and playful, before it slowly unveils the delicate scent of Bulgarian Rose and unfolds into a fragrance that epitomizes femininity, elegance and sophistication. The ingenious interplay of scent notes created a scent that gives you the best of both worlds with a touch of old-world, 1920s Great Gatsby glamour.
Especially Escada, in my opinion, captures the very essence of 1920s fashion and today, I would like to share with you two outfits that I would pair with this feminine scent to a roaring 20s theme party in this day and age.
1. Full Lace and Scalloped Hems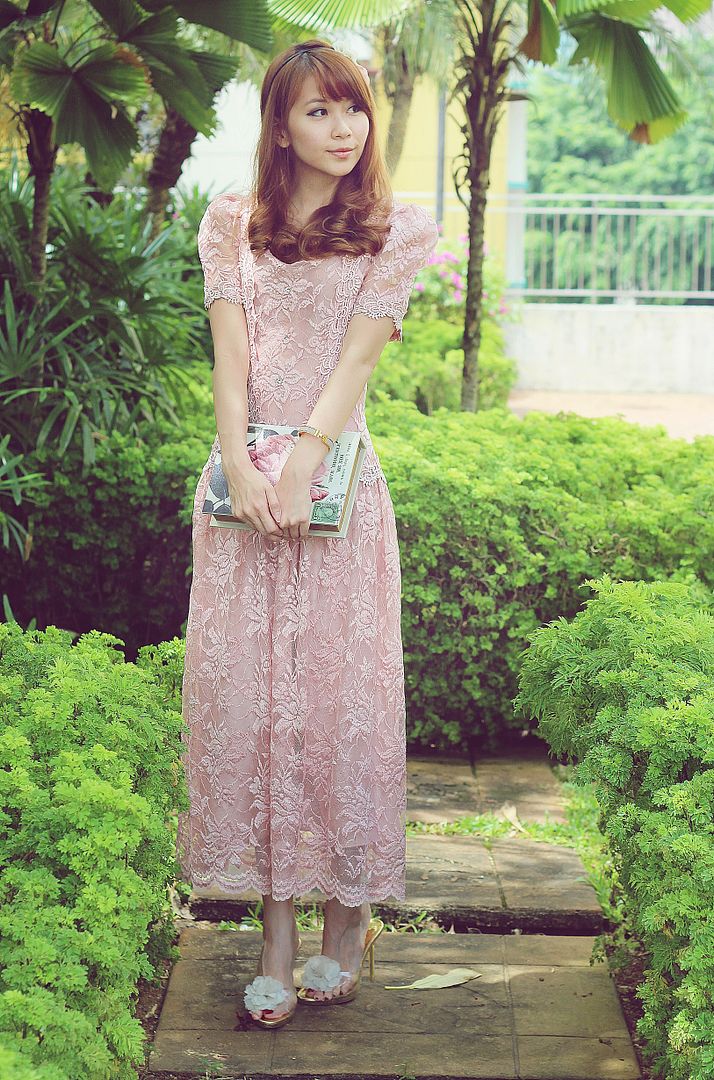 The flapper style needn't be all about heavy sequined dresses which may add years to a lady's age. I decided to do without the bling and opted for a full lace drop waist dress with scallop hems in a muted dusty pink shade to add a girly vibe to the flapper style.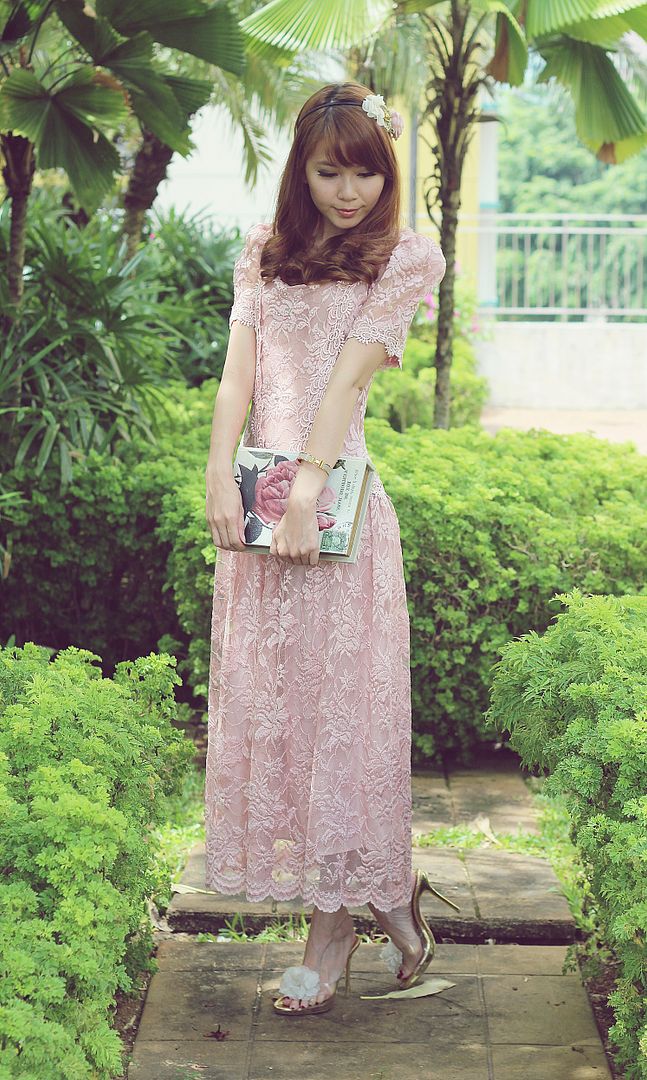 This alluring number is a true blue vintage dress from Dustbunny Vintage. Not only do vintage dresses have a lot more character, being able to own a piece of history from a bygone era like the 1920s also gives you insights into the excellent workmanship and attention to detail that is rarely replicated today.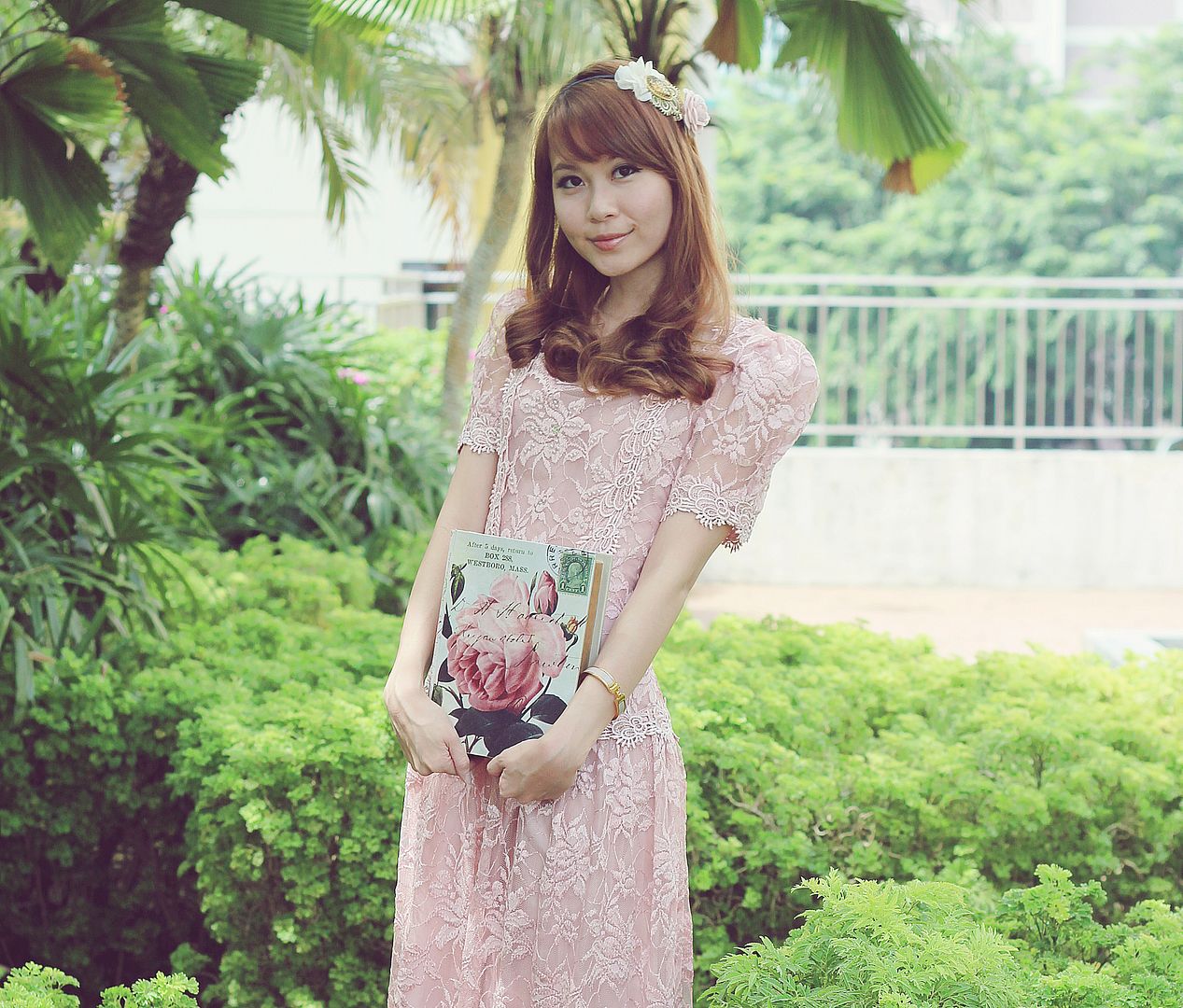 Inspired by the lingering Bulgarian Rose notes in Especially Escada, I included rose accents in my outfits for this post. Here, I have with me a rose book clutch, which lends a whimsical touch to the outfit.
The final look is youthful, quirky yet glamourous, in line with Especially Escada's fragrance personality.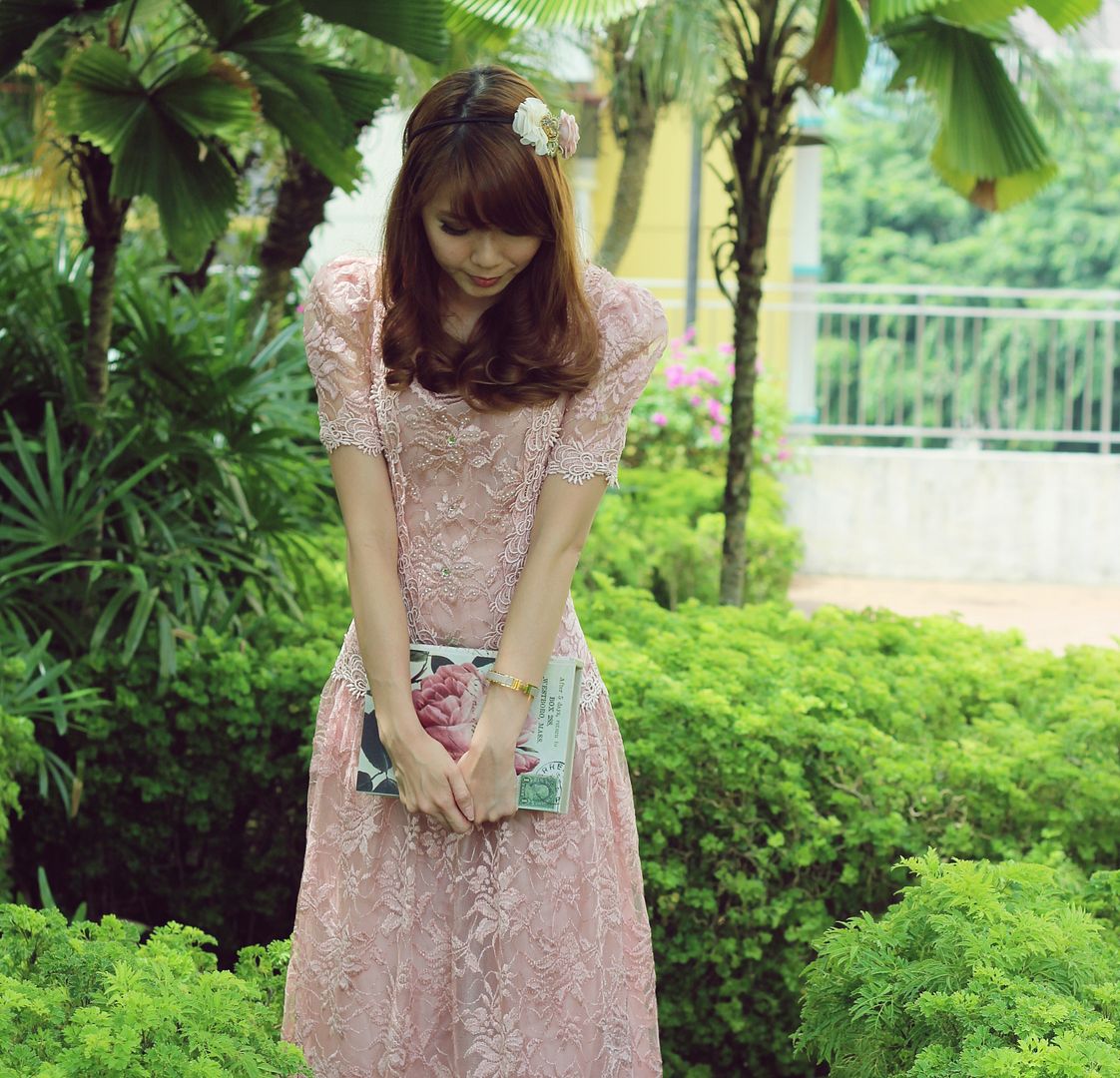 Dress: Dustbunny Vintage
Hairband: Gift from my mum
Rose Hairclip (pinned onto my hairband): H&M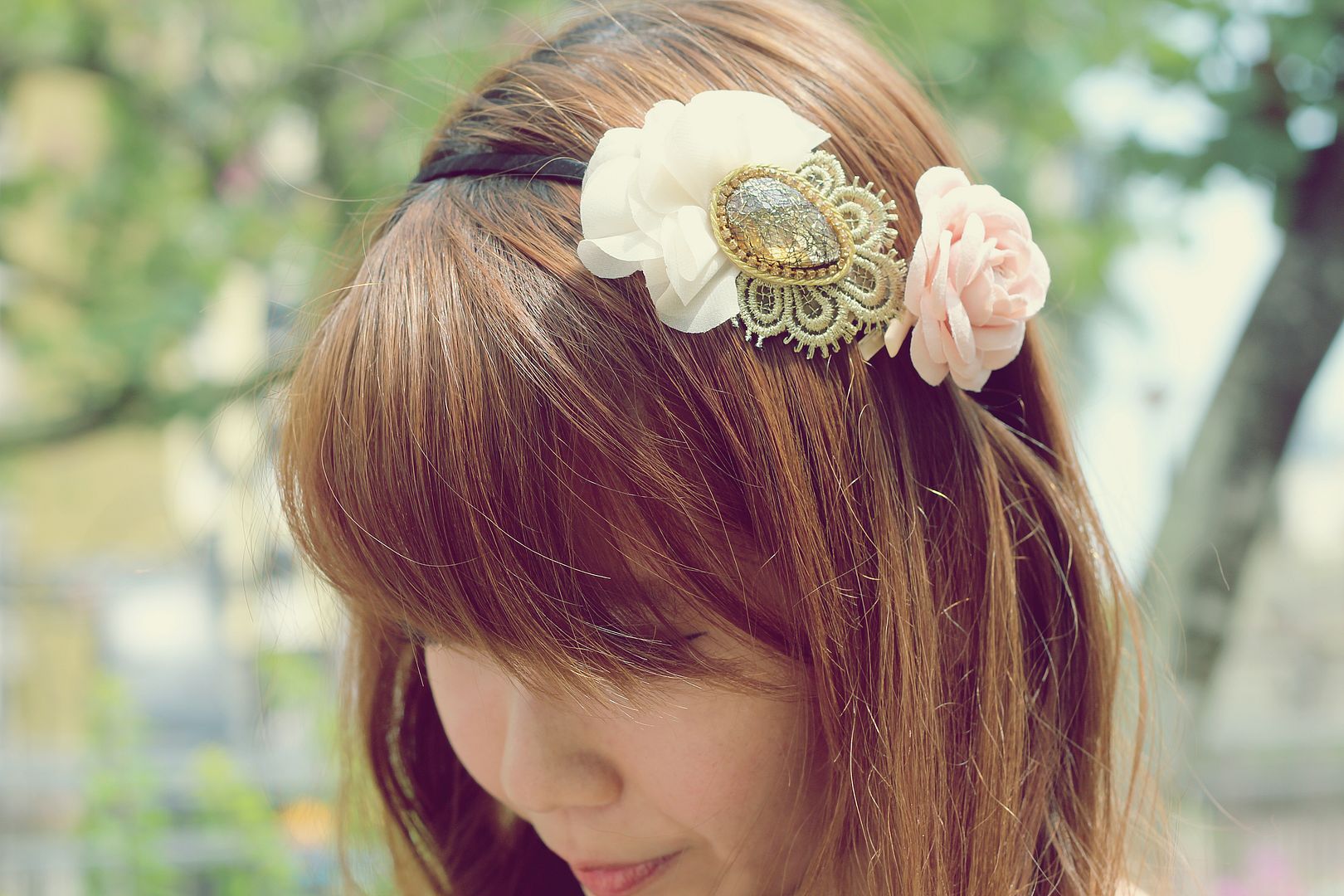 Embellishments were hugely popular in the 1920s, but again, instead of going for full-on sequins or pearls, I much prefer just a sprinkle of beads and sequins all over my dress for a soft, subtle yet glamourous look.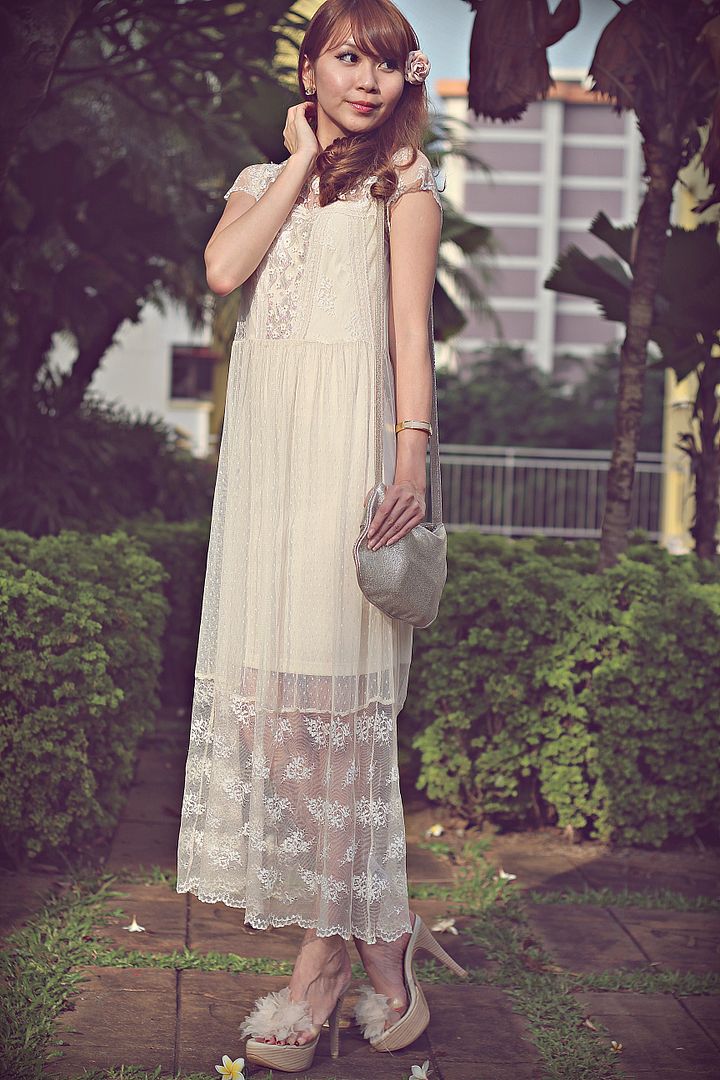 The shorter slip dress brings out the details of the lace hems on the outer dress and makes the entire ensemble fresher and more vivacious. Can you tell that there's a spring in my step now? ;)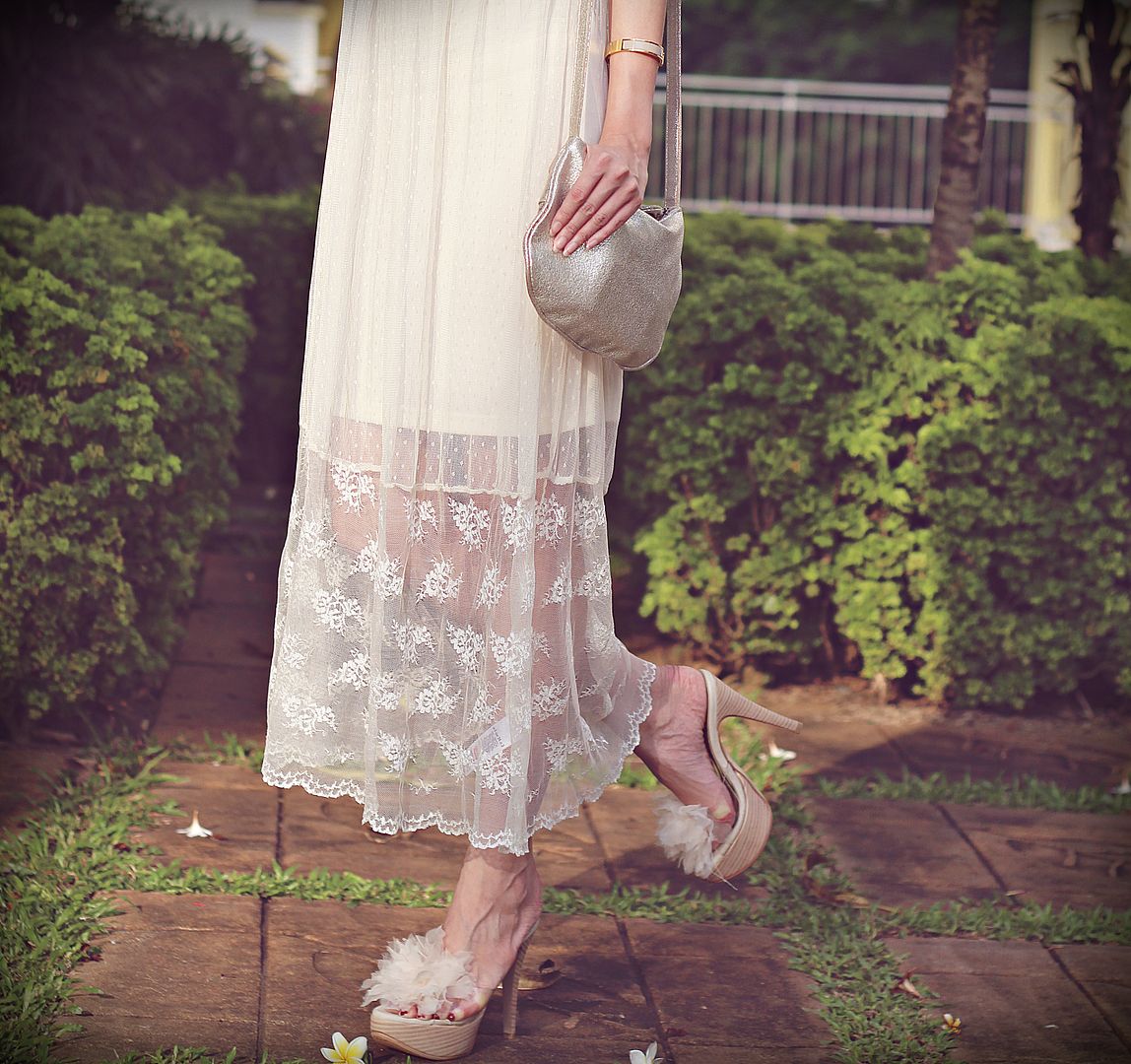 A muted shimmery gold sling bag was all it took to complete the look without stealing the limelight from the dress. Accessories were kept to a minimum to give the final look a youthful update, yet the beautiful beaded, lace details and scallop hems ensure that the true spirit of 1920s fashion is not compromised.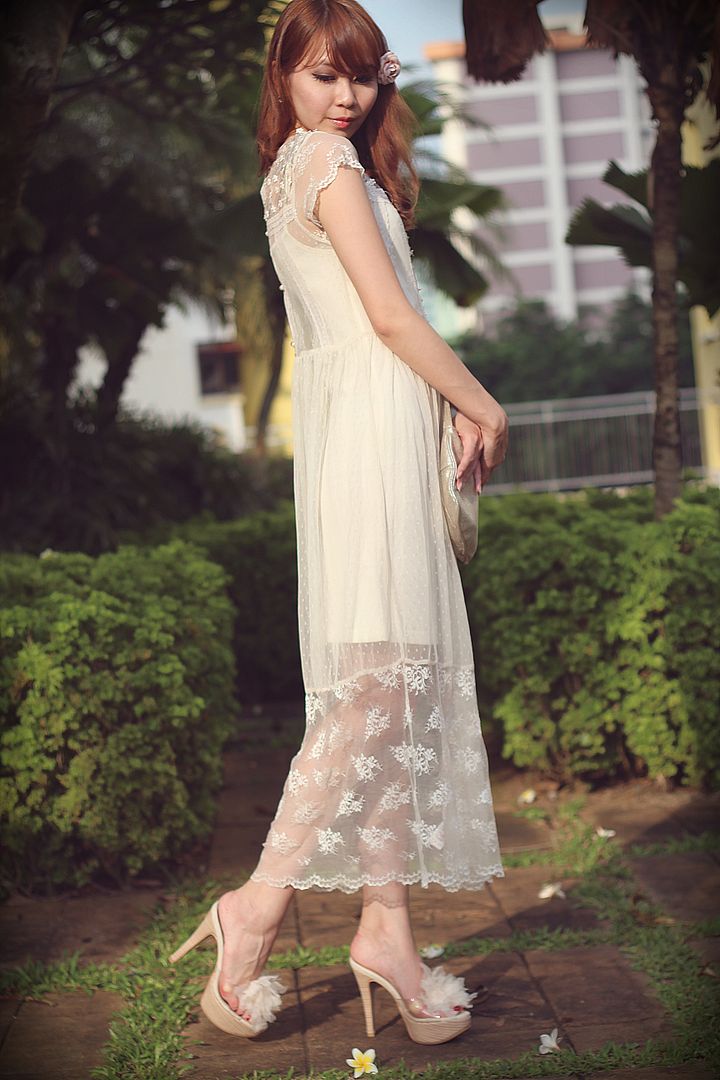 Dress & Bag: Ms Selfridge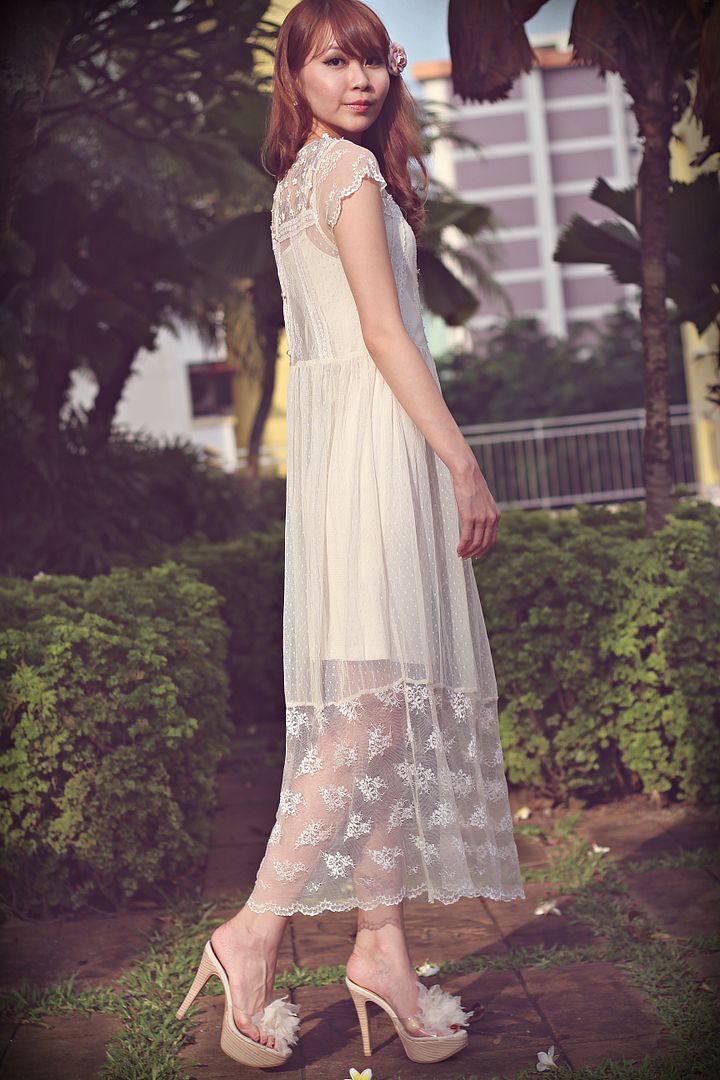 I hope you like the outfits that I wore to complement this gorgeous scent. Especially Escada is the perfect fragrance for the girlie girl who's sweet, confident and romantic, with a quirky sense of humour to boot. If this sounds like you or someone you know, perhaps it's time to head on down to the Escada counter and spritz on some perfume
!