advertorial
beauty
blogging events
hair
reviews
sponsored
John Frieda Frizz Ease Range: Battling Frizz Has Never Been Easier
Sunday, July 21, 2013
I have very fine hair which is naturally prone to flyaways and frizz. My ends are especially dull and frizzy as a result of chemical t...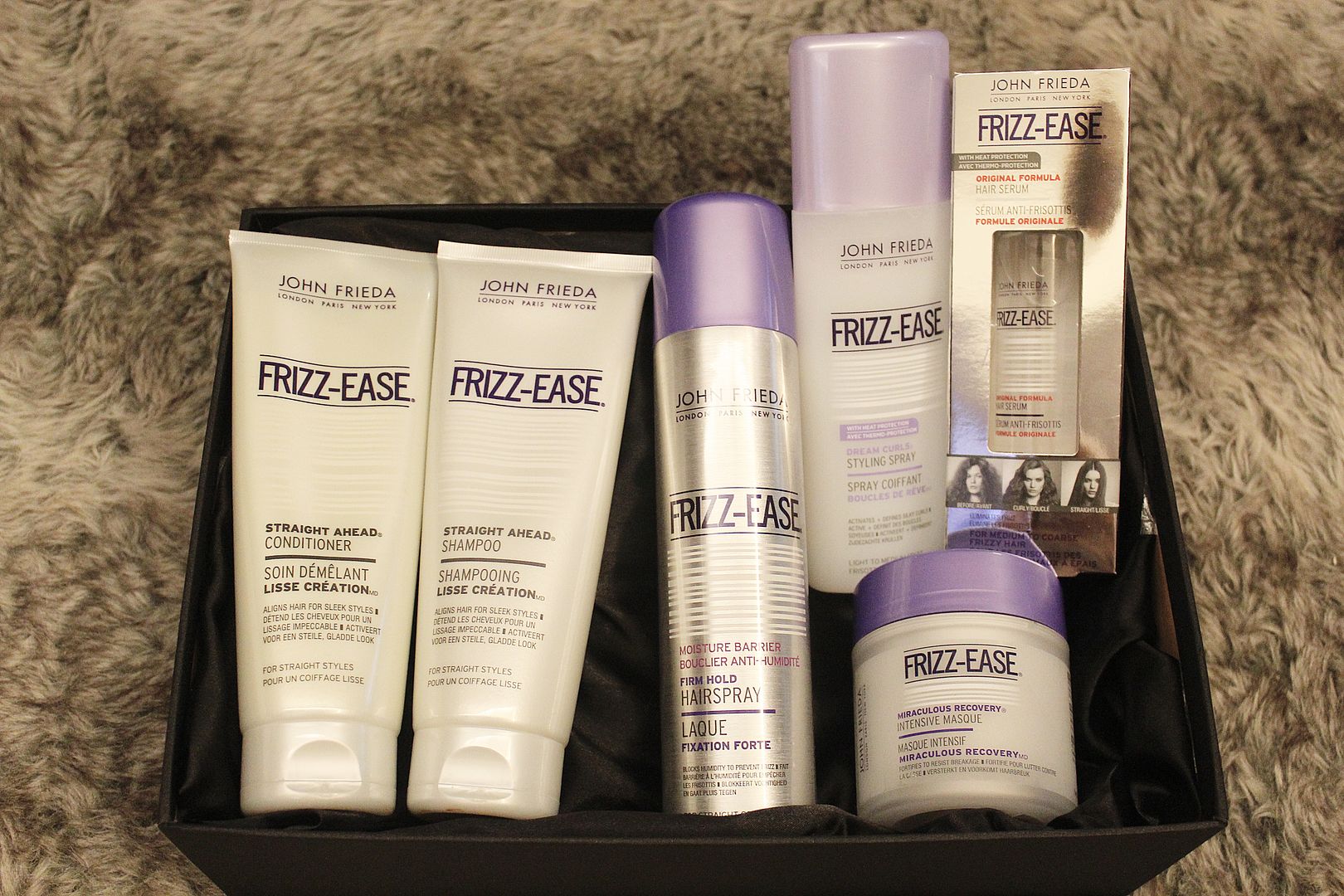 I have very fine hair which is naturally prone to flyaways and frizz. My ends are especially dull and frizzy as a result of chemical treatments like colouring and perming. While I don't perm my hair as often these days (it has been 7 months since my last perm), repeated colouring has left my ends damaged and dry.
Hence, you can imagine my delight when I received an invitation to try out John Frieda's Frizz Ease range just when my current hair care products were running out. How very timely indeed!
Background of John Frieda
John Frieda is a British celebrity hairstylist who began his hairstyling career way back in 1968 and eventually started his own line of hair products. Today, the John Frieda team is led by a team of celebrity stylists, including Kerry Warn, the hair designer for The Great Gatsby movie.
More importantly, John Frieda's team of stylists aims to understand and solve your biggest hair woes and transform your hair using salon-calibre products to achieve the look that you have always desired.
About the Frizz Ease Range
The Frizz Ease Range is specially formulated for ladies with unruly, frizzy hair and would like to tame her tresses and keep frizz at bay.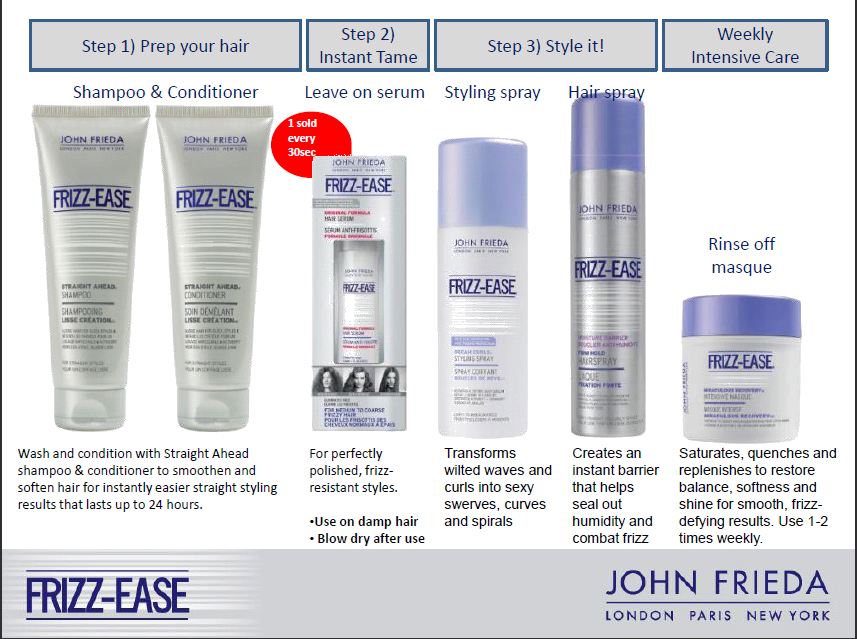 Having tried many products that claimed to battle frizz and tame flyaways, only to realize that the results were temporary, I was initially a little skeptical that John Frieda's Frizz Ease Range would work. But, photos certainly don't lie. Look how smooth and glossy my hair was after just one day of usage!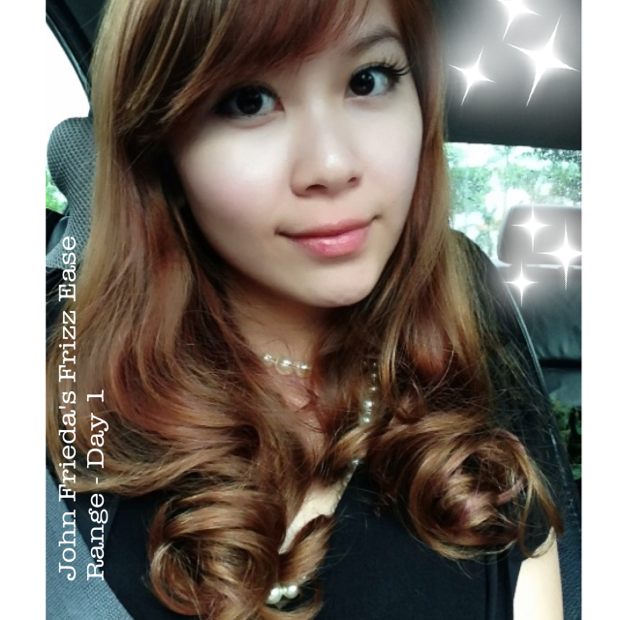 Even JW complimented me on my hair when I first switched over to John Frieda's products, which really surprised me because he usually doesn't notice anything.
I guess that only means that the products do work!
Step 1: Frizz-Ease Straight Ahead Shampoo & Conditioner
Most moisturizing shampoos weigh my hair down. Some even leave a residual film in my hair which causes my scalp to itch.
Surprisingly, the Frizz-Ease Straight Ahead Shampoo turned out to be different. The lightweight formula delivers moisture to my hair without any residue. My scalp feels clean and my hair is smoother and silkier.
I have used many types of conditioners, including several famous salon brands, but my vote goes to the Frizz-Ease Straight Ahead Conditioner as it is the best conditioner I've used thus far. The unique formula comprises a Frizz Mending complex and olive oil which boosts moisture and provides optimal nourishment to my hair. My hair immediately feels softer and more manageable.
Step 2: Frizz Ease Hair Serum
The Frizz Ease Hair Serum for Medium to Coarse Frizzy Hair is the most highly acclaimed hair product in the entire Frizz Ease Range. Voted as the best styling and anti-frizz product in over 10 magazines in the UK and US, this award-winning serum is also John Frieda's best-selling product, with 1 bottle being sold every 30 seconds.
For those of you who have been reading my blog, you would probably know that I sleep with sponge curlers to achieve my curls. Sponge curlers deliver bouncier and more long-lasting curls as compared to curling tongs. More importantly, the absence of heat also means that this curling method does not damage my hair at all.
I have been applying this serum on damp hair everyday after shampoo and conditioner, before I use my sponge curlers, and the results have been nothing short of amazing. Not only does the serum help to seal in moisture and tame frizz through its humidity repelling formulation, it also lends a healthy shine to my tresses. My hair remains glossy lasts throughout the day until my next shampoo! This is my favourite product out of the entire range.
Step 3: Dream Curls Styling Spray
I use the Dream Curls Styling Spray together with the Frizz Ease Serum to achieve bouncier, more defined curls. Its non-alcohol and magnesium-enriched formula penetrates every strand of hair to restore elasticity and spring. After smoothing on the serum, I spray a light mist of this styling product on my hair ends before proceeding to curl my hair with my sponge curlers.
On days when I attend functions and events, I would also lightly spritz the Frizz Ease Firm Hold Hairspray all over my hair for better hold. I like that it contains sunscreen and can protect your hair from harmful UV rays.
Weekly Intensive Care: Frizz Ease Miraculous Recovery Intensive Masque
This masque replenishes moisture to restore balance, shine and softness for frizz-defying results. Formulated with milk protein, Vitamin E and Avocado Oil, it mends the hair surface and transforms dry, brittle hair into silky soft hair. I have used this twice so far, and a little goes a long way. I can foresee that this tub will last me a couple of months at least.
I only decided to write a comprehensive review 2 weeks after using this range because I wanted to test if the results would last, and I am happy to report that 2 weeks on, my hair has remained smooth and shiny. I wouldn't say my hair is completely frizz free now, but it is approximately 90% frizz free, which is good enough for me.
If you've an issue with frizzy hair, give John Frieda's Frizz Ease range a go!
For more information, do visit John Frieda's website:
John Frieda Frizz Ease Range can also be found in selected Watsons stores and Guardian pharmacies.