beauty
fashion
shopping
Travel
Travels
Shopping in Seoul - Best Places to Shop!
Saturday, November 09, 2013
Shopping in Seoul is a fantastic experience, to say the least. Korean beauty brands and the latest K-pop streetwear can be found in every ...
Shopping in Seoul is a fantastic experience, to say the least. Korean beauty brands and the latest K-pop streetwear can be found in every nook and cranny at affordable prices. If you are thinking of emulating your favourite K-pop idols' fashion sense, you definitely ought to shop in Seoul!
1) Myeongdong
Shopping in Seoul inevitably conjures up images of Korean beauty brands such as Laneige, The Face Shop, Etude House, Innisfree, and my favourite Nature Republic (love their aloe vera gel!), among others. While most of these brands can be easily found in Singapore, there's something different about these shops in Korea that makes the shopping experience more appealing to shopaholics like me!
If you're looking for beauty products, Myeongdong is the place to go!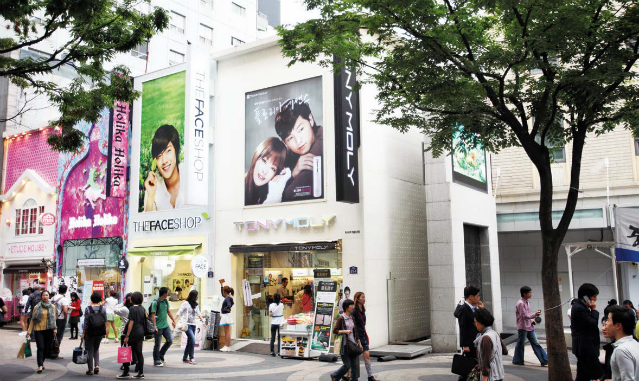 Credits: www.korea.net
My most recent trip to Seoul was in July this year, together with Alvin and Grace to catch the Asian Premiere of Wolverine. Grace and I stayed at Skypark Myeongdong, an excellent hotel right smack in the heart of Myeongdong. The minute we stepped out of our hotel, we could see Innisfree across the road and a myriad of other beauty brands just a stone's throw away.
The exciting part about shopping for beauty products in Seoul is that every shopper is entitled to freebies! The sales assistants hand out free masks or product samples the minute you step into the shop, before any purchase is made. Everyday without fail, Grace and I would receive a handful of beauty products free-of-charge.
Now, I'm going to share with you an important shopping tip to ensure that you secure the best buys. All the beauty brands have at least 2-3 branches in Myeongdong but the items on promotion may vary from branch to branch. So, remember to check out at least 2 branches first before making a purchase!
Just to give you an example, the Innisfree branch directly opposite Skypark Myeongdong offers hotel guests an additional 10% discount. Some of the sheet masks were also on sale when I was there in July, but we soon realized that the other Innisfree branches were selling the masks at full-price.
2) Express Bus Terminal Underground Shopping Mall
Seoul's Express Bus Terminal is a subway station that houses a huge underground shopping mall lined with rows and rows of shops that seem to go on forever. You can reach this station via Line 3, Line 7 and Line 9.
There are two levels of shopping here. The first level, which is where you will exit when you get out of the subway, is home to a variety of stores selling footwear, accessories and luggage bags.
First level of shopping - with Grace and Alvin
Take a walk right to the end of the stretch and you will find stairs that lead down to the second level, or should I say basement. That's when the real shopping begins!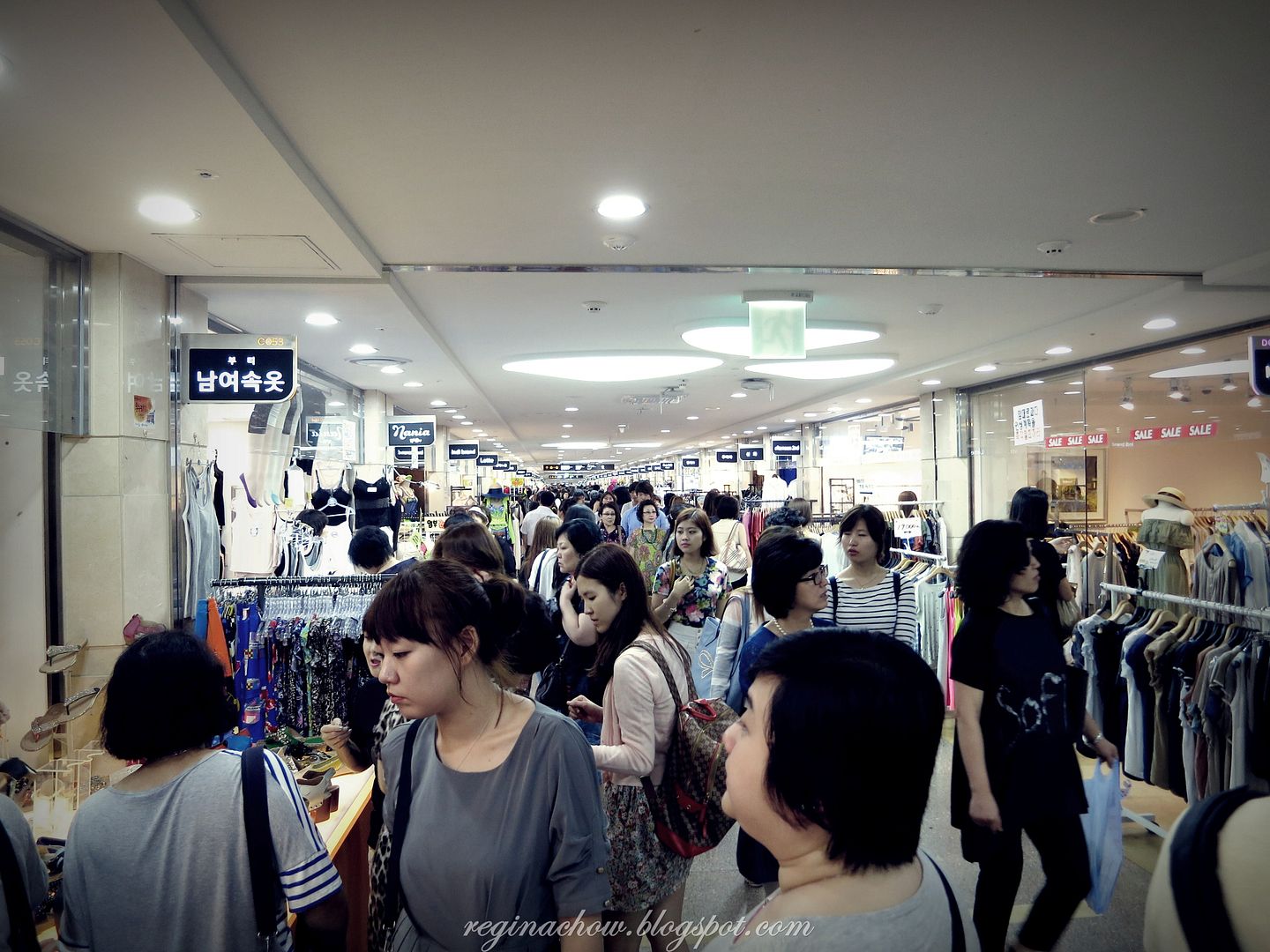 2nd level of shopping, also where the real shopping begins!
As you can tell, local Koreans make up the bulk of the shopping crowd here. When it comes to shopping overseas, I am a firm believer of shopping at places that are popular with locals as the prices are less likely to be inflated and you'll usually get better deals!
Over at the underground shopping mall, you'll find many apparel shops with the latest Korean fashion on display. The trend now veers more towards edgier and funkier street wear, unlike in previous years when feminine dresses and lace tops were all the rage.
The pricing is very reasonable as well. You can even get tops and dresses for as low as S$5. Honestly, all the best bargains can be found here. In fact, we visited Dongdaemun the next day, where we saw identical items at much higher prices!
Are there any other places that you would go for shopping?
Do feel free to share them with me!