advertorial
fashion
home decor
review
reviews
sponsored
wiwt
Linen & More: Shopping for Linen Home Decor and Fashion Apparel
Wednesday, January 08, 2014
Located at Great World City Basement 2, Linen & More is a treasure trove of linen home decor and fashion apparel waiting to be d...
Located at Great World City Basement 2, Linen & More is a treasure trove of linen home decor and fashion apparel waiting to be discovered.
With Linen & More, decorating your home has never been easier. It

offers a wide assortment of linen cushion covers, bed linen, placemats, runners and tablecloths in a gamut of colours and designs. There's something for every occasion and you will literally be spoiled for choice.
Now that Chinese New Year is just around the corner, it is time to extend the festivities to the way your home looks and feels. Let your home echo the festive spirit of this season by adding a splash of colour to your furnishings!
Jazz up your sofa with festive cushions in a riot of colours or add a bold table runner to perk up your mood and create a joyous ambience. These beautiful hand-embroidered cushion covers are just some of my choice picks for the upcoming Chinese New Year celebrations.
Red is one of my favourite colours for Chinese New Year as it symbolizes good luck, so be sure to add a dash of this auspicious colour to your home to bring you luck in the year of the Horse!
I succumbed to temptation and picked this gorgeous red cushion cover with baroque prints (S$49.90) to complement my baroque style sofa. Don't you think it stands out beautifully against the lush black velvet? I absolutely adore how it adds a touch of opulence and glamour to my home.
If you love this cushion cover as much as I do, read on till the end of this post to find out how to win one for yourself!
If red is not your cup of tea, perhaps orange will tickle your fancy. Orange is another popular colour for the Chinese New Year festivities and this set of orange cushion covers will certainly add a touch of festive cheer to your home decor.
What I love most about the cushion covers from Linen & More is that they are timeless classics and will never go out of style. The intricate designs also lend a touch of sophistication and grace to your interior decor, regardless of what the occasion may be.
Cushion covers aside, I was also enthralled by the variety of table runners that Linen & More offers in bold, vibrant hues. Again, these are perfect for Chinese New Year or even as
housewarming gifts!
Have you ever wondered what is it about linen that makes it an ideal fabric for home decor and apparel?
Linen is a natural fabric made from flax and it is valued for its durability and eco-friendly properties. Not only is it extremely lightweight and comfortable, those of you who are prone to allergies will be happy to know that linen is one of the few fabrics around that is naturally anti-bacterial and non-allergenic.
Linen is an expensive fabric and it is hard to come by quality linen apparel in Singapore. Fortunately, at Linen & More, you will find a specially curated collection of exquisite linen apparel that will set your hearts aflutter.
The dazzling array of linen dresses and tops ensures that your choices are endless, ranging from casual breezy dresses for the weekend, to intricately embellished pieces for a glamorous night out.
I was particularly besotted with this toga embroidered dress (S$179). A mish mesh of oriental and bohemian elements, this unique number is ideal for a resort getaway or high tea with the ladies on a weekend.
Manisha, the owner of Linen & More, shared that she imported this dress from a Spanish designer based in Bali in limited quantities, hence exclusivity is assured.
I selected this design in yes, you guessed it, a cheery shade of red! The highlight of this dress lies in the fine hand-stitched embroidery, which instantly transforms the ensemble into a magnificent masterpiece. Flaunt this piece of art by wearing it to your Chinese New Year gatherings. The gorgeous oriental blooms are bound to be an instant conversation starter.
Giveaway Alert!
In collaboration with Linen & More, I will be giving away this fabulous embroidered cushion cover (worth S$49.90) to 1 lucky reader of "Shopping Queen's Haven"! Just in time for Chinese New Year!
To take part in this giveaway, just follow these 3 simple steps below!
Step 1:
Step 2:
Step 3:
Drop me an e-mail at regina.chow@gmail.com with your name, address and contact number!
*****
In line with the festive period, Linen & More is also extending a discount of 10% to all readers of "Shopping Queen's Haven"!
All you have to do is quote "Shopping Queen's Haven" at the shop itself.
No minimum spending is required.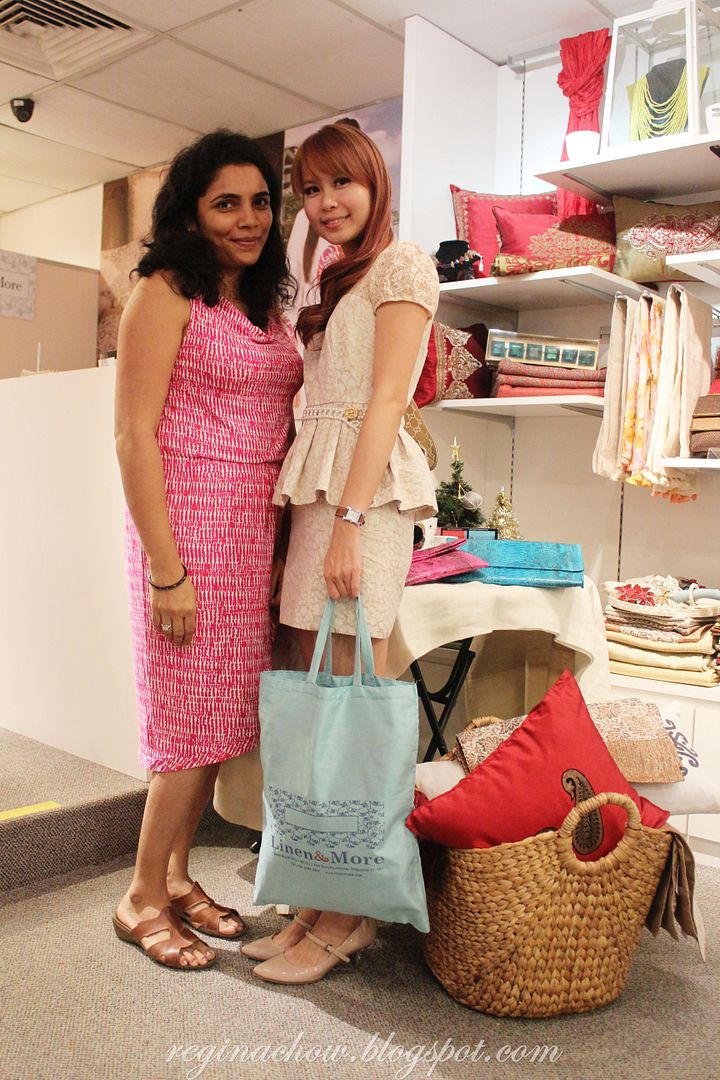 Linen & More
*****
GIVEAWAY WINNER
The lucky winner of the gorgeous embroidered cushion cover is....
I will be contacting you shortly!