Mistress of Glam (MOG) is where creativity blossoms into exquisite works of art that exude individuality and
where jewellery lovers revel in the fine craftsmanship that goes into each and every piece of jewellery.
Established in 2007 by owner and designer Queena, Mistress of Glam (MOG) remains a breath of fresh air in this day and age where mass production reigns. Unlike the typical run-off-the-mill jewellery stores, what Mistress of Glam offers is a specially curated collection of jewellery that is exclusively designed and handcrafted by the designer herself.
Queena shortlisted some of her lovely jewellery for me to review and this necklace is one of the pieces that I selected.
The intricate details and delicate composition of pearls, roses and crystals exude a sense of femininity and grace, as well as a vintage charm that makes it the perfect accessory for accentuating soft, cascading dresses or jazzing up a plain neckline. The workmanship is fabulous and even my hubby, who usually does not pay much attention to what I wear, commented on how beautifully made the necklace is.
Necklace from Mistress of Glam (MOG)
Top from Korea
Skorts from Liz Lisa
Shoes from Pazzion
Bag from YSL
I love how every design at MOG is inspired by gems, crystals and pearls, infused with a touch of vintage glamour. Feminine, stylish and glamourous, these are the very traits that many ladies aspire to be associated with.
And now, you can fulfill these aspirations with their one-of-a-kind creations which are handmade with love from quality materials that are either imported or hand carried by the designer Queena when she travels abroad. Some of the materials, such as the beautiful clay flowers and owls, are also exclusive to MOG as they are painstakingly handmade by Queena's equally talented sister. All the accessories that you see on MOG's website are quality assured as they are made from 14K gold plated and rhodium plated materials which do not tarnish easily.
No outfit is complete without jewellery accents and customized jewellery that reflect your personality. Customized jewellery also make treasured keepsakes to commemorate special occasions. MOG provides jewellery customizations for weddings, bridesmaids or even for yourself, so let Queena work her magic and add that extra sparkle to any occasion!
Queena's artistic flair is evident from many of her signature pieces where vintage parts are juxtaposed against semi-precious stones to retain an old world charm, coupled with a contemporary twist.
Here are some other pieces that I personally adore:
Rings
Earrings


Bracelets
Other than jewellery, MOG also offers an exclusive selection of apparel that are specially handpicked by Queena during her overseas trips. I love shorts sets which are so popular right now, hence no prizes for guessing what my favourite pick from MOG's apparel collection would be.
This Mint Martini shorts set is so chic yet whimsical! Complete the outfit with one of MOG's quirky bracelets and you'll look impeccable for afternoon tea or weekend brunch with the girls.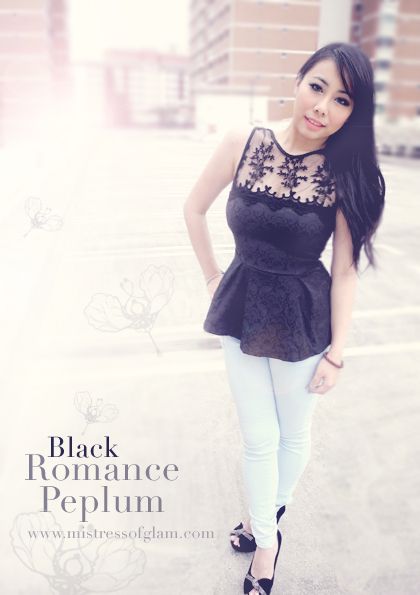 If you prefer a more romantic look, the Black Romance Peplum Top would be perfect. The alluring peek-a-boo lace details and baroque motifs lend an air of mystery and elegance without compromising on femininity and versatility. You can pair this top with pants, shorts or even a pencil skirt to take you to work!
Now, here's the good news!
Mistress of Glam (MOG) is offering a discount to all my blog readers from now till 30 November 2013. All you have to do is type

Regina08

upon checkout to receive an 8% discount off your total bill, applicable storewide (including the sale section) !