advertorial
aesthetics
beauty
celevenus
reviews
Celevenus Wellness & Aesthetics
Tuesday, October 01, 2013
 I was invited by Celevenus Wellness & Aesthetics to try out their anti-ageing aesthetic treatments recently. Helmed by Dr Dylan...
I was invited by Celevenus Wellness & Aesthetics to try out their anti-ageing aesthetic treatments recently. Helmed by Dr Dylan Chau, who is able to blend science and artistry to bring out the best in his patients, Celevenus specializes in aesthetic treatments to reverse the effects of aging, achieve clearer, more radiant skin as well as improve facial contours and features.
I was certain that I was in good hands as Dr Dylan Chau has 9 years of experience in medical aesthetics and is well versed in resolving dermatological problems as well as administering anti-aging treatments. He is also a Sculptra trainer for doctors. Sculptra is one of the latest and most revolutionary treatments in the realm of anti-aging treatments.
Age has taken its toll on me now that I am past 30, and I can feel that my skin is beginning to lose elasticity and firmness. One of the most noticeable telltale signs of aging on my face has manifested in the form of more pronounced nasolabial folds, and I have been thinking of doing fillers for these deep lines.
Nasolabial folds are the lines that run from the sides of your nose to your lips, also more commonly known as smile lines.
Did you know that nasolabial folds deepen over time because our cheeks sag with age? Smiling and facial expressions are contributing factors too, but they are most certainly not the main cause.
Nasolabial folds can make one look older than he or she actually is, and they are a pain to get rid of because unlike wrinkles, topical creams or moisturizers have no effect on these stubborn lines. The most common way to minimize their appearance is through aesthetic procedures such as fillers.
I was a little nervous during my consultation session with Dr Chau as I have never done any aesthetics treatments previously, but Dr Chau put me at ease instantly as he listened patiently and attentively to my concerns about my deepening nasolabial folds before going on to explain how fillers could be used to plump up the folds and improve their appearance.
I liked how consultative and informative the entire session was.

He also gave a detailed explanation of what I could expect after the treatment. As my cheekbones are pretty high and I have rather full cheeks, Dr Chau candidly shared that my nasolabial folds would not go away completely. Nevertheless, there would still be a visible difference.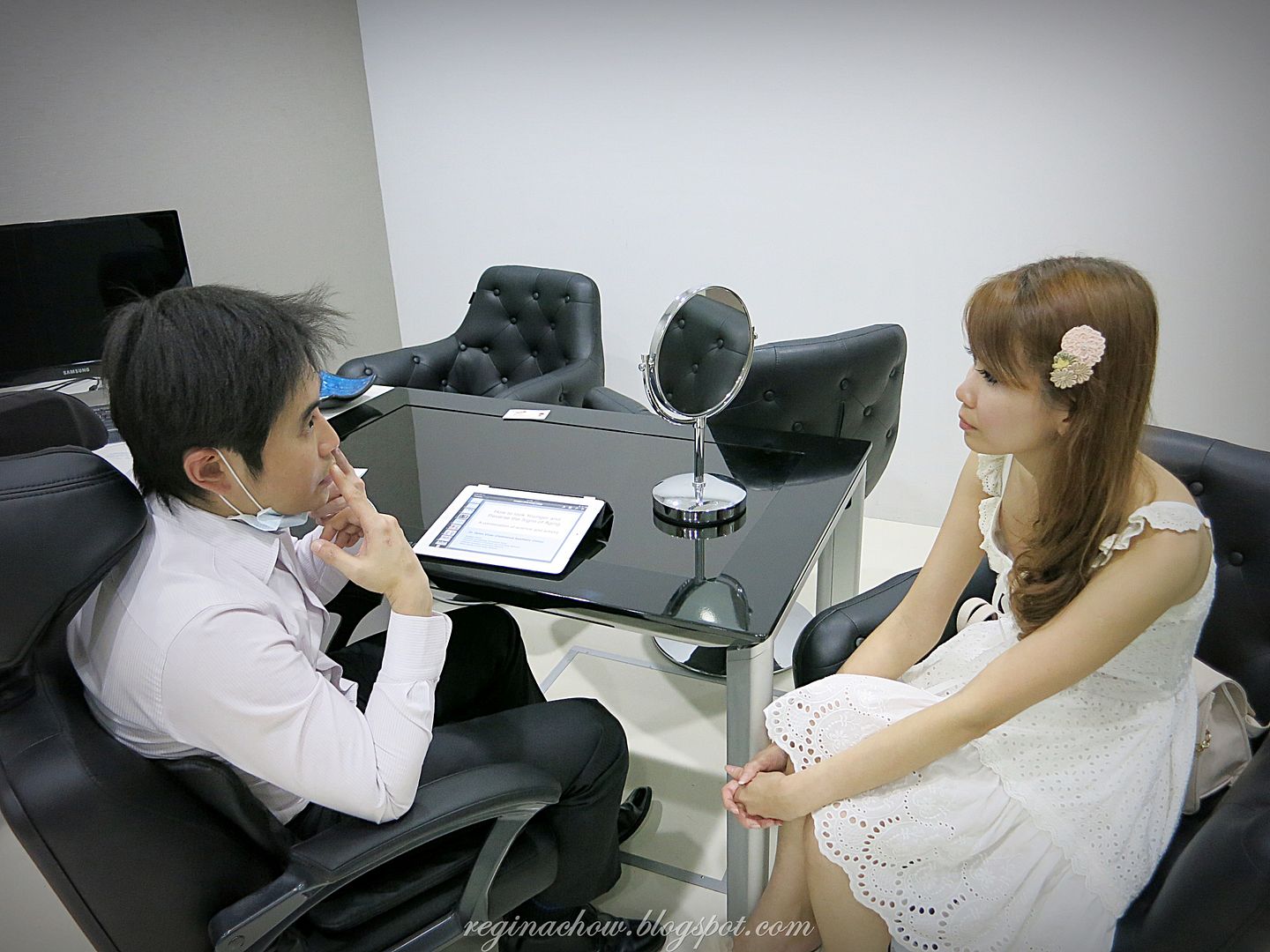 I also took the opportunity to ask Dr Chau for his expert opinion on my facial proportions. He felt that my features were generally fine, but if I wanted to, I could add some height to my nose bridge and sculpt the tip of my nose. In addition, I could also consider botox to reduce my slightly squarish jaw for a sharper face shape and Sculptra for my tear trough. I have to admit I was tempted to try out all these procedures, but given that I have never done any aesthetic treatments previously, I decided to take it slow and address my nasolabial folds first.
As I had an important event to attend shortly after my consultation, I scheduled another appointment for the procedure to be done on a separate day. If you like, you can go ahead with the procedure immediately after consultation.
This is a 'before' picture of myself on the day of the procedure, after the approachable and friendly staff at the clinic prepped my nasolabial folds with numbing cream.
Here I was, all numbed up and ready for the procedure.
Dr Chau used the latest
Juvéderm® VOLUMA® Lidocaine for my treatment. The addition of Lidocaine reduces pain and provides additional comfort during and after treatment.
Juvéderm® VOLUMA® with Lidocaine is hyaluronic acid facial filler specifically made to restore lost facial volume in the cheeks, cheekbones and chin. It uses hyaluronic acid, a sugar that occurs naturally in our skin, to add fullness to areas that need more support or enhancement. Developed to be smoother than other hyaluronic acid facial volumizers, it is also easier to inject during filler treatment.
Juvéderm® VOLUMA® with Lidocaine was developed with VYCROSS™ technology to deliver a natural look and feel that
can last up to 18 months.
Most importantly,
Juvéderm® VOLUMA® is unlikely to result in lumpiness or product migration, both of which are common side effects of other facial fillers.
I was told that the nasolabial folds are one of the more painful areas for injection but Dr Chau administered the procedure expertly and skillfully with utmost precision, resulting in minimal pain. In fact, the filler injection felt more like tiny ant bites.
Dr Chau also chatted with me throughout the entire duration of the procedure, which was very reassuring and comforting.
The following pictures will give you a better idea of what to expect during the procedure. Essentially, the fillers were injected directly into my nasolabial folds at three different points on each side.
As I bleed easily, Dr Chau shared that I am likely to be more inclined to bruising. The key to reducing bruising is to apply pressure at the injection site immediately after injection.
And there, my right nasolabial fold was done in the blink of an eye. Can you tell that the fold is almost gone?
My left nasolabial fold is much deeper in comparison, partly due to the way my lips tend to curl up towards the left when I smile, hence a larger quantity of
JUVÉDERM® VOLUMA™ was required to plump it up sufficiently.
Now, here are the final results. The photo on the left is my 'before' picture and the one on the right was taken immediately after the procedure.
I went out immediately for an event after the procedure as I did not experience any swelling or bruising till the end of the next day.
The clinic called me the very next day to check on me as well, which I felt was a very thoughtful gesture.

The bruising lasted a couple of days, but all I needed was a touch of foundation and concealer.
Pictures say a thousand words.
I like how my cheeks look lifted now thanks to my less obvious nasolabial folds, which also contributes to a more youthful appearance.
What I really liked about the treatment was that it naturally enhanced my looks without drastically altering my overall appearance. My friends and family could not tell that I had anything done to my face, but many of them commented that I looked fresher and younger. Just so you know as well, the pictures in this post were not digitally enhanced.
I am very satisfied with the final results and I know I have Dr Dylan Chau to thank for reversing the effects of aging and restoring my youth. I would highly recommend Dr Chau for any of your dermatological or aesthetics concerns. In fact, as you are reading this, I have already made plans to head back to Celevenus for a round of laser treatments to address my skin pigmentation issues. ;)
Address:
391B Orchard Road
#16-03/04 Ngee Ann City Tower B
Singapore 238874

Tel:
+65 6410 9621 / +65 6410 9622

Email:
beauty@celevenus.com.sg
Website:
http://www.celevenus.com.sg/